What is "asthma control"?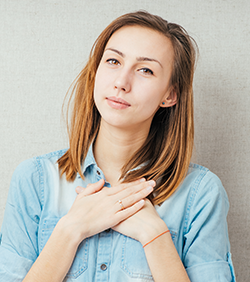 Asthma sufferers may experience:
Wheezing
Shortness Of Breath
Chest Tightness
Persistent Cough (Especially At Night Or In The Morning).
The trachea and bronchial tubes are very sensitive. Exposure to certain "triggers" causes the airway muscles to spasm and tighten. As asthma worsens, inflamed airways become increasingly constricted. This makes it difficult to breathe.
Many of the 14 to 15 million Americans with asthma make unnecessary compromises to avoid attacks. While there is no cure, asthma can be controlled with an accurate diagnosis, treatment, and monitoring. Don't delay diagnosis. It's the first step toward control.
When should you see an asthma specialist?
Before a life-threatening attack.
When you have moderate to severe persistent asthma symptoms (frequent severe episodes, continual daytime symptoms, frequent nighttime symptoms, limiting of activity, daily use of medication).
You are not meeting your asthma control goals after three to six months,
If you have multiple ER or urgent care visits for asthma.
What triggers asthma?
Sensitivity to allergens: pollen, dust mites, mold, animal dander.
Irritation from tobacco smoke, pollution, common cold, sinus infections, cold air,
Exercise, in some cases.
What are realistic asthma control goals?
Regardless of the severity of your condition, the goals of asthma treatment are the same: control of your symptoms and a normal lifestyle.
You should be able to:
Take part in usual activities, including healthy exercise.
Sleep through the night.
Avoid asthma attacks.
End coughing, wheezing and breathlessness.
Avoid ER visits or hospitalizations.
Avoid possible medication side effects.
Xolair
XOLAIR® is the first and only anti-IgE monoclonal antibody for the treatment of moderate to severe allergic asthma and chronic Idiopathic urticaria. Over 60% of asthma is allergic and
Xolair has been shown to significantly reduce exacerbations.
XOLAIR is a treatment for patients 12 years of age and older with moderate to severe persistent allergic asthma who are not controlled on inhaled steroids.
Allergy Sleep & Lung Care offers XOLAIR to patients who qualify. Contact us to learn more.
XOLAIR® (omalizumab) for subcutaneous use is an injectable prescription medicine used to treat adults and children 12 years of age and older with moderate to severe persistent asthma whose asthma symptoms are not controlled by asthma medicines called inhaled corticosteroids. A skin or blood test is performed to see if you have allergies to year-round allergens. XOLAIR is not used to treat other allergic conditions, acute bronchospasm or status asthmaticus.
Visit www.xolair.com for more information.
Bronchial Thermoplasty
Bronchial Thermoplasty (BT) is an outpatient procedure for people with severe asthma, proven to reduce asthma attacks for at least 5 years. BT reduces asthma attacks by reducing airway smooth muscle. With less smooth muscle, the airways constrict less, reducing asthma attacks and making breathing easier.
BT complements your current treatment options to significantly improve your asthma-related quality of life.
Bronchial Thermoplasty is delivered by the Alair™ System in 3 outpatient sessions performed by Dr. Ahmad, a BT-Certified pulmonologist.
Each session treats a different part of the lung to ensure safety
During the procedure a carefully controlled device delivers mild heat to the smooth muscle of the airways in your lungs, reducing the amount of excessive smooth muscle
No incision is needed; BT is performed with a bronchoscope inserted through the nose or mouth
When your BT treatment is complete, you will return to your regular asthma-treating physician to continue managing your asthma
As with any procedure, there are risks, and individual results may vary. The most common side effect of BT is temporary worsening of respiratory-related symptoms. This side effect typically occurs within a day of the procedure and resolves within 7 days on average with standard care. There is a small (3.4% per procedure) risk of these symptoms requiring hospitalization.
Patient Testimonial
I am an 80-year old snow bird who has lived with asthma since I was six years old. Over time, my condition has grown progressively worse, but it took an even greater nosedive in the last few years. It got to the point where my breathing was so labored that I had trouble simply walking to the mailbox. Gratefully, in 2015, I saw an article about a revolutionary new lung treatment being offered by Imtiaz Ahmad, MD, MPH, FCCP. I contacted Dr. Ahmad's office immediately, and after some testing, I was accepted for treatment. Those three treatments changed my life. I'm now working out every day. I ride a stationary bike, I walk on the treadmill, and have even rejoined my softball team. I would strongly recommend Dr. Ahmad and this treatment to anyone who is experiencing trouble breathing as a result of asthma.
– Michael O'Brien
Visit www.btforasthma.com for more information.
Immunotherapy for Allergy Relief
Allergy immunotherapy ("allergy shots") has been used for over 100 years by people
who cannot avoid their allergens or for those individuals that do not get adequate relief
from medications. Immunotherapy is different from medications because it actually
changes the way the body reacts to allergens. Doctors often rely on immunotherapy
to help control or even eliminate allergic symptoms for their patients.
Download a brochure about immunotherapy by clicking here.