As you may know from your experience, it can sometimes be difficult to focus on a single chronic disease like COPD, asthma or other chronic respiratory condition in a patient with multiple co-morbidities. Our expertise and interest in such diseases helps our practice to focus on these conditions in-depth and keep morbidity under control.
We will work with you to ensure quality health care for your patient in timely manner, including faxing all consultative notes to your office and remaining in constant communication so that you are well aware of the patient's treatment course.
Working together with medical professionals in the community has been part our culture since our founding over a decade ago. We understand how important it is for your patients to know that the physicians you refer to are competent and will provide personalized attention. We look forward to the opportunity to collaborate with you on the care of your patients.
Imtiaz Ahmad, MD, MPH, FCCP
Education & Training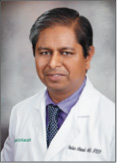 Imtiaz Ahmad, MD, board certified in Internal Medicine, Pulmonary Medicine and Sleep Medicine, started his medical training in the State University of New York Health Science Center in Brooklyn, NY to complete residency in Internal Medicine and fellowship training in Pulmonary and Critical Care Medicine at the University of Mississippi Medical Center. Upon completion of fellowship, he went on to Harvard to obtain advanced degree and training in clinical research and healthcare management. He also received Masters in Public Health degree from Harvard School of Public Health. He received his medical degree from Dhaka Medical College with outstanding achievement and scholarship.
Current Position
Dr. Ahmad has been the Medical Director at Allergy Sleep & Lung Care, since July 2004. Here, he focuses on sleep, allergy, asthma, COPD and other pulmonary disorders, as well as conducting clinical research in these fields.
Board Certifications
Pulmonology
Internal
Medicine
Sleep MedicineClinical Expertise
Pulmonology
Sleep Medicine
Asthma/Allergy
Past Positions
Abbott Laboratories – Medical Director Abbott Park, IL
Sepracor, Inc. – Consultant Marlborough, MAProfessional Associations
American College of Chest Physicians
American Academy of Sleep Medicine
Society of Critical Care Medicine
About Allergy Sleep & Lung Care
At Allergy Sleep & Lung Care, we provide comprehensive diagnostic options to successfully diagnose lung cancer. We work with a network of primary care physicians and oncologists to refer patients for the best cancer care available, close to home. We pride ourselves in successfully communicating with primary physicians to provide your patient with comprehensive, multi-disciplinary care.